If only that was an easy question to answer…
There is no set pay table with how much sparring partners in boxing and MMA make because, like any other profession in the world, it depends how good you are at your job and how much money your boss is willing to pay you for your services. The first part of the previous statement says, "how good you are at your job," so let's focus on that for a second.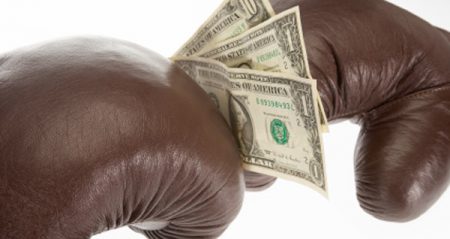 Being a good sparring partner very rarely means you are one of the best fighters in the world. Often times they are fighters that are either just coming up and trying to make a name for themselves, or a fighter whose best professional days are behind them, but they are still professional enough to know what they need to do to help prepare the fighter that they were brought into camp to spar with.
Often times you see people confuse sparring sessions for real life fights, especially on online boxing and MMA message boards. You'll read about how "the champ" had problems with a novice, or a guy that has a sub .500 record, and it must mean that "the champ" is in trouble come fight night. While that is true sometimes, it is usually not the case. Usually "the champ" may have been directed to work on one specific thing he hasn't mastered. His sparring partner across the ring may have been brought in because he does that one thing really really well. When you look at it in that example you can see why "the champ" may have had problems with that specific sparring partner on that specific day. Again, that rarely means that the sparring partner would have any kind of chance against "the champ" if the two were to actually fight. However, that does mean that the sparring partner that was brought in was very effective at his job.