(Disclaimer – As mentioned in a previous post, sparring stories are often times exaggerated, for any number of reasons. The following examples of gym battles also fall into that category, of course, but it's impossible not to look at these mouth-watering battles between legendary fighters throughout history and wonder what it would have been like to be a fly on the wall in the gym that day.)
Mike Tyson and Lennox Lewis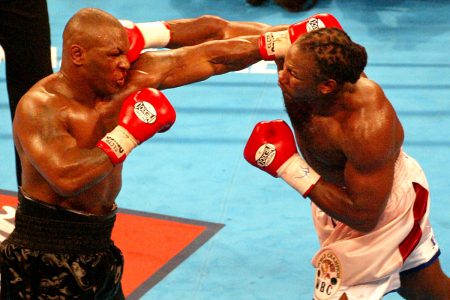 On June 8, 2002, Mike Tyson and Lennox Lewis met in the ring, each earning millions of dollars. Tyson took a ferocious beating from the hands of the then champ Lewis, eventually succumbing to him in the eighth round. However, this wasn't the first time these two had met in the ring. Nearly two decades earlier, in 1984, Lewis and his handlers were looking for some good sparring, and took the trip to Catskill, NY where Cus D'Amato was always looking for good sparring for his fighter, Tyson. Little did they know they'd be splitting 35 million dollars to fight for real years later.
Of course, there's a little "he said, she said" in regards to this fight. A former Tyson trainer, Stacey McKinley said he had pictures of Lewis knocked out during those sparring sessions. Of course, he was also promoting the Tyson-Lewis fight at the time. On the other hand, while Lewis said the sparring with Tyson was "explosive," he also said that in the four days they sparred, Tyson never knocked him out. Lewis said that Tyson gave him a fat nose, but that he bloodied Tyson's lip.
Lewis' amateur trainer, who was present for the sparring sessions, suggested that at the beginning Tyson surprised Lewis. He had never faced that kind of pressure before, but as the sparring sessions went on, Lewis started to "dominate" the sessions.
At the end of the day, Lewis obviously got the best of Tyson – when it comes to the pro ranks, anyway – but many have wondered what it would have been like if these two would have met years before. The truth is, while Lewis is actually a year older than Tyson, Tyson was way past his best when he was 35, when Lewis was just getting started.
Conor McGregor vs. Chris van Heerden
A number of weeks ago a rumor began circulating that Conor McGregor and Floyd Mayweather were going to meet in a boxing ring. Around the same time, a video of McGregor sparring Chris van Heerden, a former champion in the boxing's welterweight division. The owner of the gym the two sparred in, a former boxer by the name of Tony Jeffries, suggested that he didn't think McGregor would ever have a chance against Mayweather. But after seeing McGregor spar on that day, Jeffries said that now he thought McGregor had a chance. Personally, that sounds like a quote from someone who was perhaps interested in promoting a fight.
Here's some actual video of the sparring session, so you can judge for yourself:
http://www.youtube.com/watch?v=8VZlWdUjvKA
Obviously the person who posted that video thought that van Heerden got the better of McGregor. Again, this doesn't look like an all out war, as opposed to a couple of guys actually sparring, in the true sense of the word. Perhaps some were impressed with McGregor's boxing skills he displayed in this video. Others say it looks like van Heerden was taking it easy on McGregor. What almost everyone should be able to agree on is that the video above in no way shows any evidence that McGregor could compete with Mayweather in a boxing ring. Rumors of that fight died down just about as quickly as they started. However, it would seem that if anyone would be willing to take on the challenge, it would be McGregor, who went up 25 pounds to meet Nate Diaz in his last fight, a fight in which he looked good before getting stopped.