In the first part of our "Famous Gym Battles," we took a look at some of the sparring sessions of a few of the greatest names fighting has ever heard, including Mike Tyson, Lennox Lewis, and Conor McGregor. In this edition we take a look at a name that was close to becoming a household name, but not before he committed a heinous act and shortly after took his own life.
Edwin Valero and Erik Morales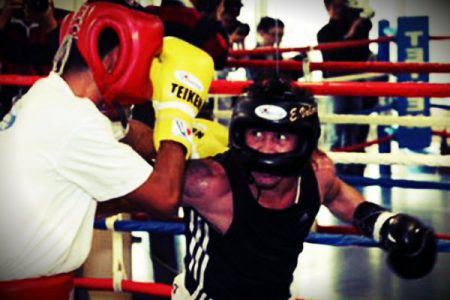 Edwin Valero compiled a professional boxing record of 27-0 with all of his wins coming by knockout. Two months after his last fight he was charged with the murder of his wife in a hotel in Venezuela, his native country. One day after being sent to prison on the chargers, police officers found him dead in his jail cell, a result of suicide. Before these unspeakable actions happened, Valero was on the cusp of super-stardom, having already won a title in the super featherweight and lightweight divisions. Big paydays, particularly against rumored opponent Manny Pacquaio, were within his reach, but of course, never realized. Ironically enough, it was a former Pacquaio opponent that was responsible for bringing the name of Valero to the boxing masses after employing him as a sparring partner, prior to his first match against Pacquaio.
In 2001, Valero was a novice, having compiled a 12-0 record. However, most of those matches came in Venezuela, so nobody in America was taking him seriously. Yet. Erik Morales was looking for sparring partners, and Valero was called. What was expected to be pretty easy work for Morales, turned into what many called an even match. Again, Morales was in the middle of a training camp and Valero was most likely trying to make a name for himself, but nobody expected the young Valero to be able to hang with the future hall of fame fighter Morales. Thanks to the budding trend of everything showing up online around the time of these sparring sessions, about a dozen minutes of their sparring session remains on YouTube today:
What starts off as both fighters seemingly walking through the motions, quickly turns into the two trying to get the better of each other. There are people out there that say Valero dominated the action, but that is the mystique of wondering "what would have been" coming through with Valero.
However, it may be a testament to how good Morales was to at least keep things even with Valero, because Valero certainly had his way with other guys who won titles in the sport. Mike Anchondo, who was undefeated at the time he sparred Valero, was all but "ran from the ring," according to people who saw the sparring session. Additionally, Juan Lazcano was given all he could handle by the young Valero.
There is another way to look at the dominance that Valero displayed during training sessions. By all accounts, he brought his best every time he got into the ring. Other guys work at a slower pace, hoping to be their best on fight night, and not wanting to waste it all in the gym. Valero was a machine, always ready to go full bore, while some of his sparring opponents may have been caught off guard by both his intensity, and possibly not knowing who he was before stepping into the ring with him. However, the reason his name lives among folklore in the internet boxing community is because of those sparring stories and his unblemished resume that was starting to be filled with known fighters. And he won them all by knockout. Those kinds of legends among boxing fans never die. Ask Mike Tyson.